The carton stitcher is equpped with dual servo system andtouch screen. The PLC system is from Mitsubishi, Japan. The carton stitcher is suitable for nailing all kinds of corrugated box machine, which is effective and quick. Besides, single nail or double nails stitching could be arbitrarily adjusted.
The servo controlled semi-automatic carton stitcher updates from ordinary semi-automatic carton stitcher, which is the newest product. The whole drive and operation of the carton stitcher are powered by two groups of servo drive motors. The mechanical sheet feeder, the nail part and the rear baffle can be directly operated on the touch panel, which is precise, convenient and quick. There is no need for workers to take the rulers to adjust the size around the carton stitcher, which avoid the weaknesses of the ordinary carton stitcher using gears and bearings to drive the machine and decrease mechanical failure rate to extend the service life.

| | |
| --- | --- |
| Model | JF-2460 |
| Machine Speed | 500nails/min |
| Nail Number | 1-99nails/m |
| Nail Wire spec | 2.6mm*0.72mm |
| Machine Size | L800*W2600*H2500mm |
| Nail Distance | 3-130mm |
| Max Sheet size | 1515*2460mm |
| Min Sheet size | 300*606mm |
| Max Board Plaching Height | 900mm |
| Air Pressure | 6HP |
| Machine Weigt | 2000kg |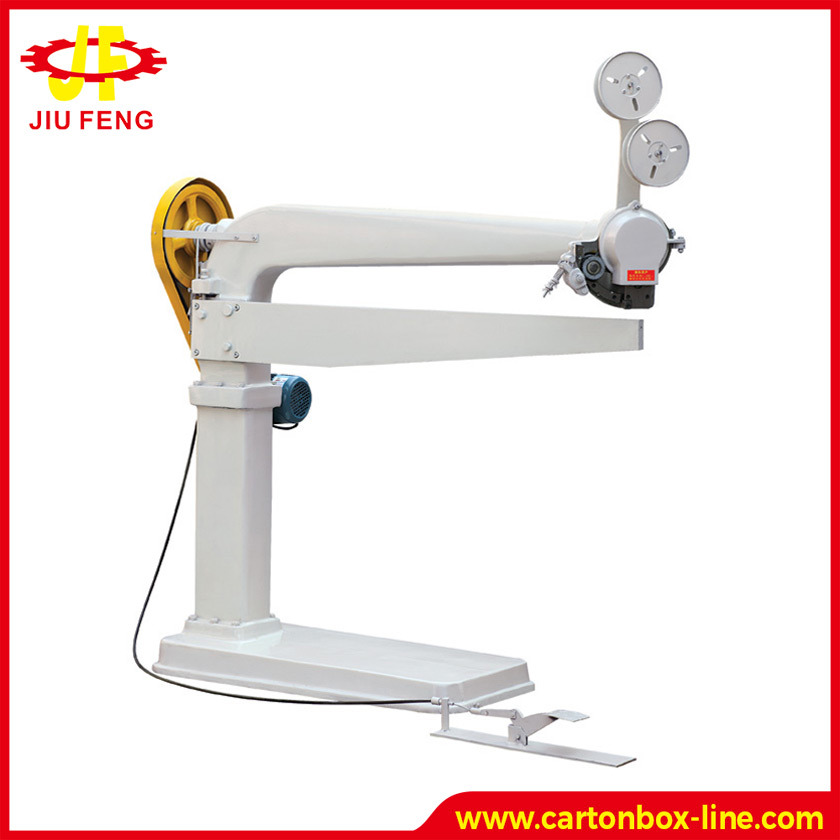 Double-piece and dual-servo controlled semi-automatic carton stitcher can stitch single-piece cartons, double-piece and irregular cartons. Besides, cartons with bottom but no cover and large cartons also can be nailed. All parts of the carton machine are controlled by electric, the process of nailing carton is quick and labor-saving. The sheet feeder uses automatic counter to count the amounts of completed carton and the finished products are delivered to bundling. When the carton specifications switch, it just needs two or three minutes to achieve the adjustment, so the operation is convenient and quick. The carton stitching machine can also nail single nail, double nails and reinforced nails, which has high flexibility. The machine uses the computer to spontaneously adjust the nail distance and the computer screen also can display the breakdown clues, which is beneficial to the quick breakdown elimination. This is why the ordinary type carton stitcher's performance can not be compared.
| | |
| --- | --- |
| Model | JF-2400 |
| Max size(length plus width) | 4800 |
| Min size(length plus width) | 1060 |
| Max sheet width(mm) | 1200 |
| Min sheet width(mm) | 180 |
| Min sheet height(mm) | 400 |
| Nail Distance(mm) | 0-120 |
| Nail Number(nail) | 1-99 |
| Max Speed(nail/min) | 500 |
| Machine Length(mm) | 6000 |
The high-speed pedal nailing machine is a new product which upgrades from ordinary carton stitcher. Now it is the most progressive and effective high-speed pedal nailing machine in China.The high-speed nailing machine adopts progressive electric and magnetic clutch and electronic brake equipment to take the place of the traditional mechanical clutch to control the operation, which has features such as high efficiency, less energy consumption, using electronic devices, low failure rate and easy operation. It is appropriate for a variety of specifications carton nailing.
| | | |
| --- | --- | --- |
| Model | MW-1300 | MW-1800 |
| Nailing Length (mm) | 1300 | 1800 |
| Max Carton Thickkness(mm) | 15 | 15 |
| Nail specifications(mm) | 0.8x2 | 0.8x2 |
| Power(Kw) | 0.37 | 1.1 |
| Weight (Kgs) | 800 | 1200 |
| (LxWxH) (mm) Dimensions | 1800x650x1800 | 2300x650x2000 |
Besides the corrugated carton making equipment, Jiufeng company also provide carton stitcher, and as we provide complete corrugated cardboard box machine line, including corrugated cardboard printer, cardboard cutter, cardboard folder and gluer with plenty of experience since 1996, we are sure to offer customers high quality corrugated carton equipment and corrugated cardboard solutions for customers.

Dongguan Jiufeng Carton Machinery Co., Ltd. is a pluralistic carton machinery manufacturing company dedicated to carton machine research, production and sales, all while providing top of the line products and one-stop services for customers.
Jiufeng Carton Machinery was established in 1996 as a small start-up, and through hard work, dedication and loyal customers, we now employ more than 50 people, including 10 research and development team members, and 12 science and technology experts to make full use of raw materials and new technologies to ensure the best performance of all products. Jiufeng's plant area has exceeded 10000 m² and includes more than 10 production lines used to produce various products, including a full set of carton equipment such as Hidepack corrugated box making machines (high definition printing, drying, slotting, die cutting and gluing ), D-Star corrugated box making machines (vacuum heat transfer, printing, slotting and die cutting), G5 corrugated box making machine(high speed printing, slotting, and die cutting), servo control system semi-automatic carton stitcher, automatic and semi-automatic rotary slotting creasing machine, large roller printing machine (multi-color), semi-automatic carton gluer, BFY series of blade slitter scorer, and nailing machines. These products are widely used in carton cutting, carton binding, carton printing and color printing.
Jiufeng Carton Machinery has exported products to more than 10 countries in East Africa and Southeast Asia, demonstrating that our high quality products and professional, individualized sales services have earned the trust of our customers and kept them coming back for more.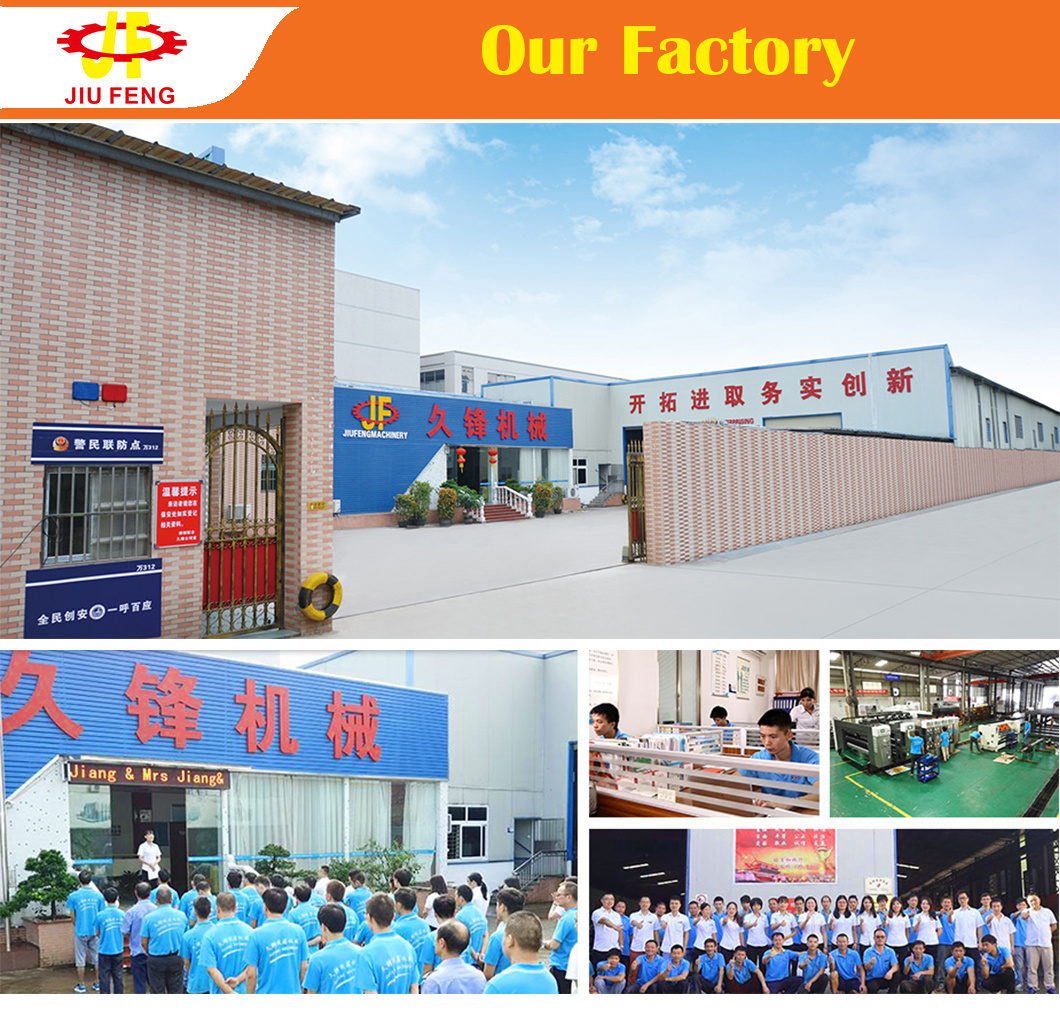 Our Services
According to the customer's requirement, we will arrange one technician to help you to install the machine and train the worker, but all the expenses like round-trip air tickets, accommodation, meals and salary USD80/day, incurred therefrom shall be born by the buyer.

Warranty
Warranty: one year. The manufacturer will send the buyer new parts ( no intentional damage). However, the courrier should be covered by the customer. Please note that the belts are excluding the one year's warranty.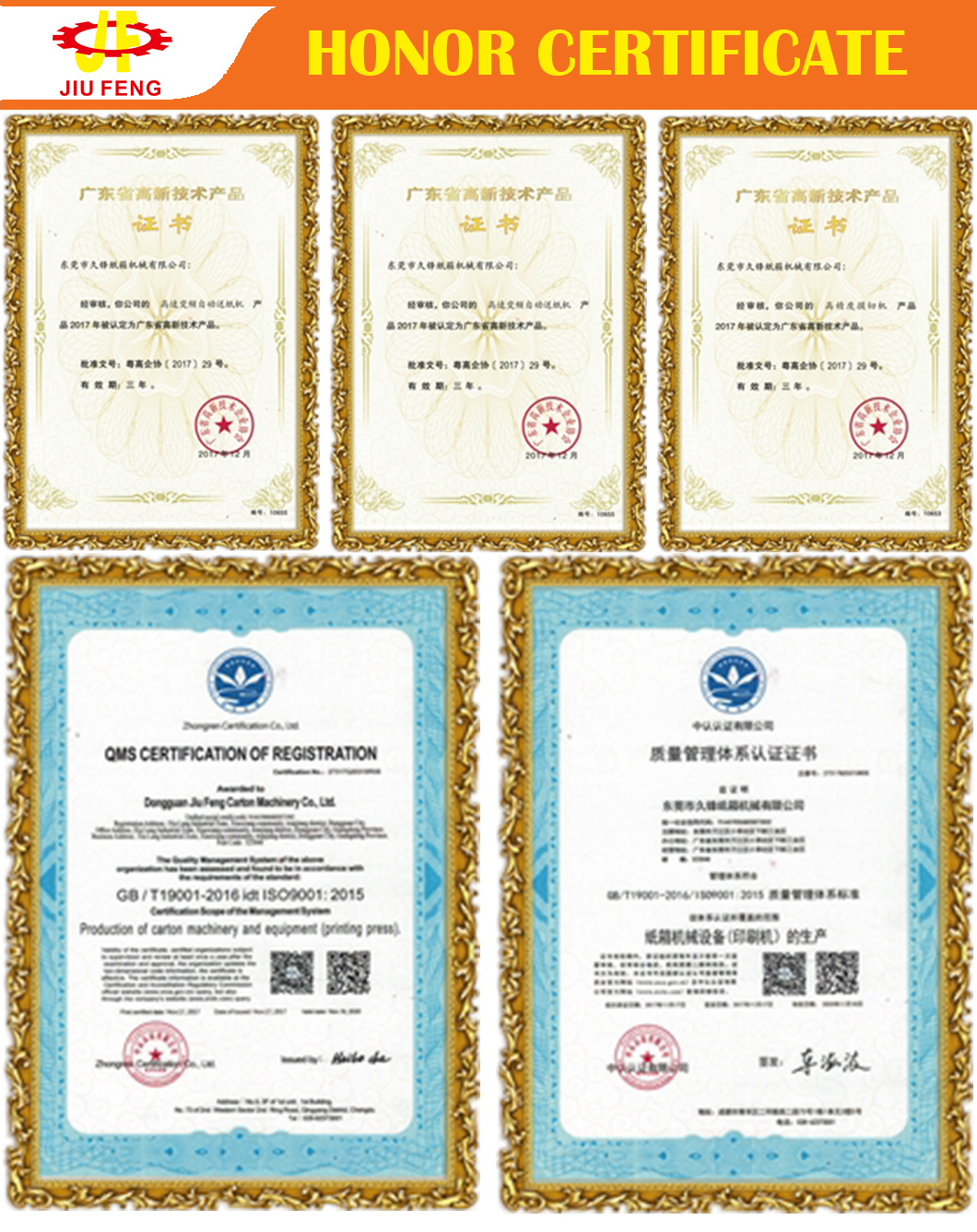 FQA:
1. What is the machine warranty?
one year.
2. Does your machine with CE certificate?
Yes.
3. What's the payment term?
A:T/T 30% in advance, the balance paid before delivery. We also accept payment L/C.
4.What is the production time while placing order?
About 30 days.
5. What is the delivery time?
Within 30 days after get the payment.
6. Does the packing strong?
Yes, of course! All of our export packings is with strong wooden pallets, all are confirmed to export packing standard.
7. Are you manufacturer?
Yes, we are manufacturer, and we have been in this field for more than 10 years.
8. Do you have a stock product to sell?
Actually our machine need 20-30 days to manufacture, and there are many orders from China and foreign countries, so we need a custom one for you, and your order will be highly attention to manufacture.
9. How about after-sales service process?
When your machine has a problem, contact your sales and we will solve your problem as soon as possible.
10. Do you inspect the finished products?
Yes, we have QC department, they will inspection the machine before shipping, to ensure there is nothing problem of the machine.
11. Do you have your technical team?
Yes, we have our own technical team and we have our own patents. And we can custom the machine as customer want.