Packaging Printing Box Book Weight Sorting Machine with Visual Recognition Inspection
JD-VC701 Visual Checkweigher COMBO
is a high-speed, high-precision Inline metal detect and weight checking equipment, widely used in pharmaceutical, food, chemical and electronics, cosmetics, toy and other industries to automatically detect metal and weight in production lines. It can detect the unqualified products containing metal contaminant, overweight and underweight in the production line in real time, and automatically reject the defective products through the rejection device.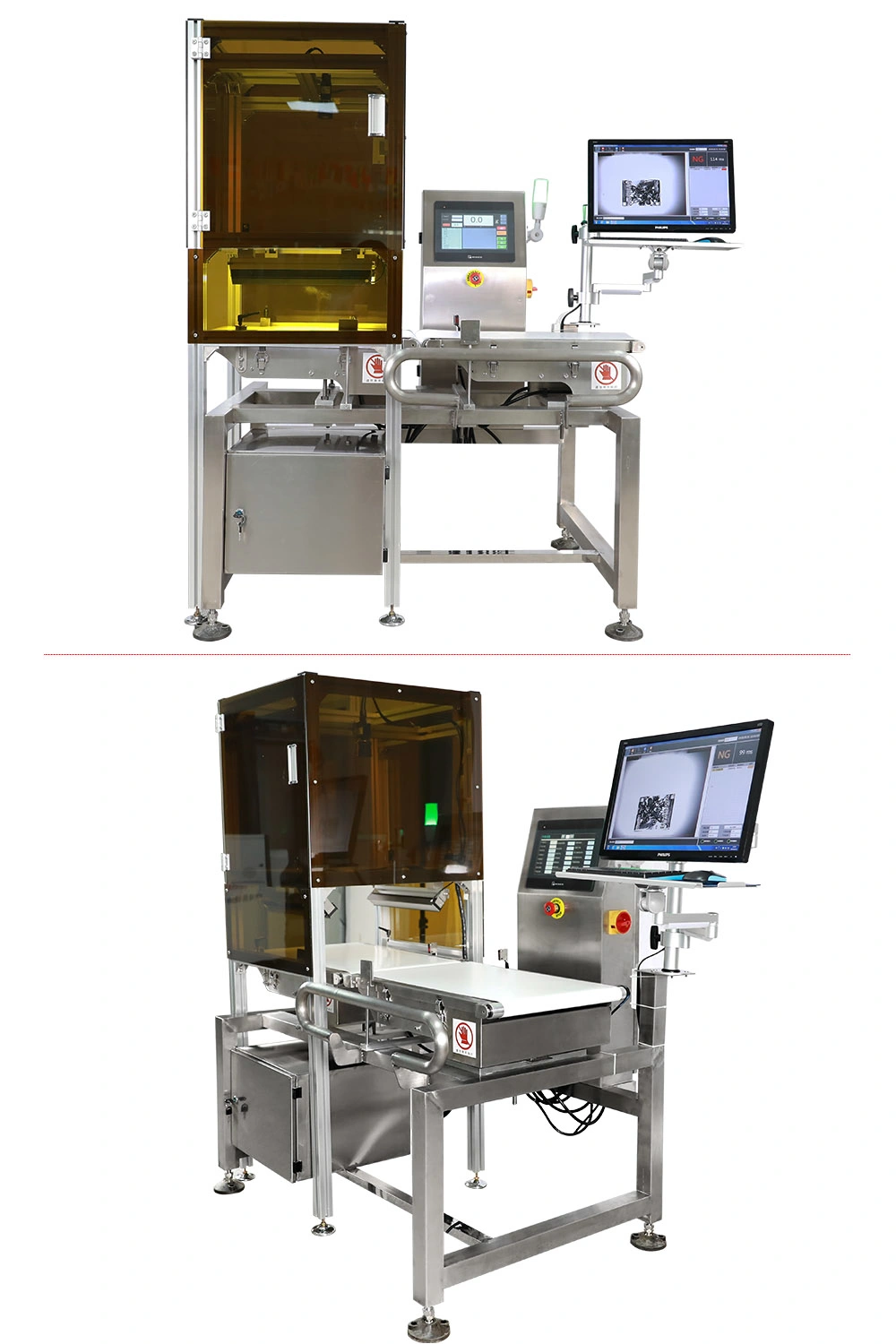 Mode

JD-VC701

Touch Screen

10.1 inch color TFT touch display

Weighing range

10~5000g

Minimum scale

0.1g

Sorting accuracy

± 0.7g~±1.5g

Detection object size

L (mm):1~300




W(mm):1~300




H (mm):1~150

Weighing section size

L 400mm * W 300mm

Belt height from ground

680mm~750mm(Customized Height)

Conveyor belt speed

20m / min fixed speed or 15-30m / min adjustable speed (speed can be customized)

monitor

19 inch LCD monitor

camera lens

FA fixed focus / CCTV / telecentric / microscope optional

Control host

I3 processor, 4G memory, 128G hard disk (configuration optional)

Material. Surface

304 stainless steel surface polishing

Language

Chinese / English (more languages can be customized)

Input voltage / power

Single Phase AC220V

50Hz/300W

Machine Weight

220Kg

Machine Size

L1950mm*W

730

mm *H 1250mm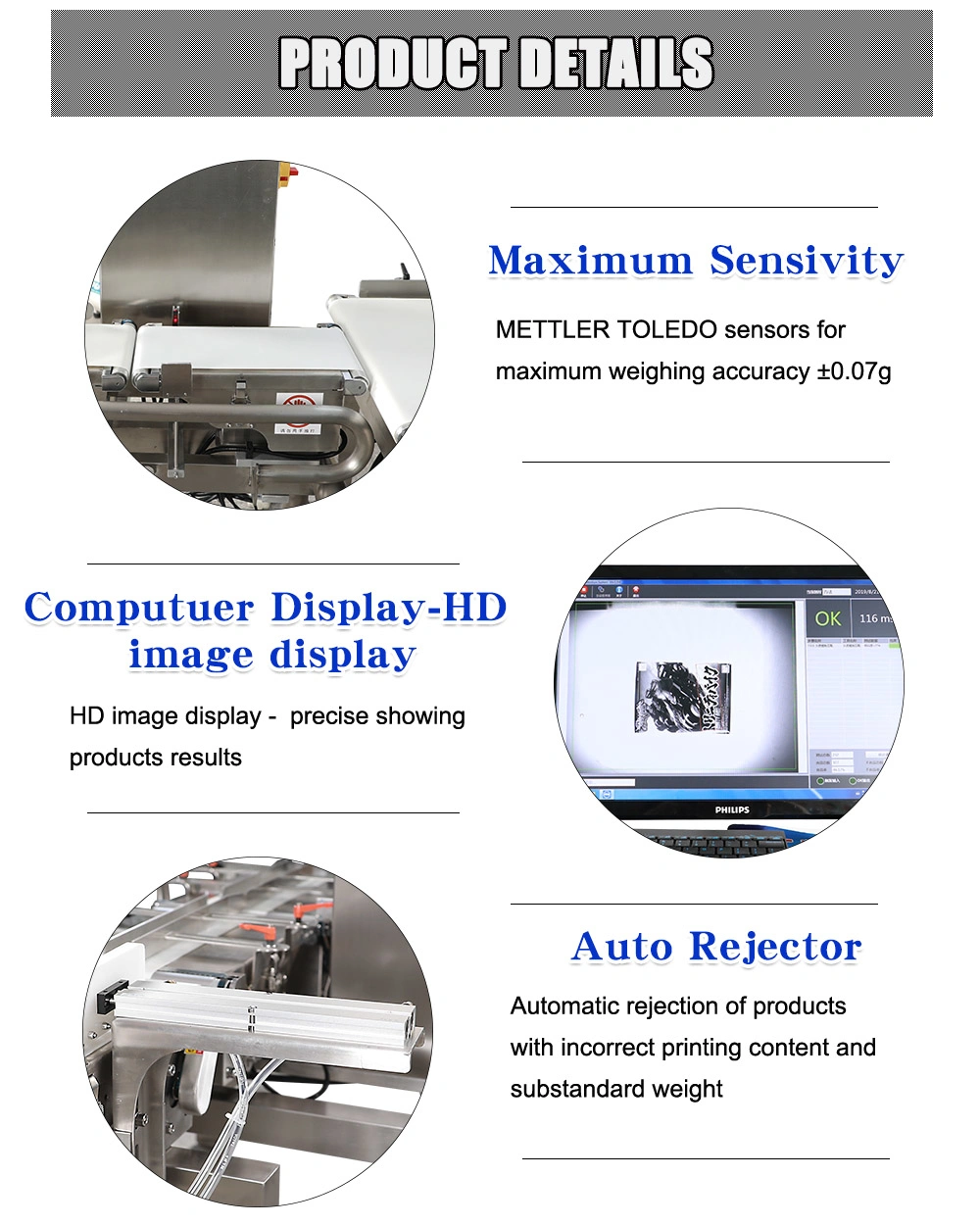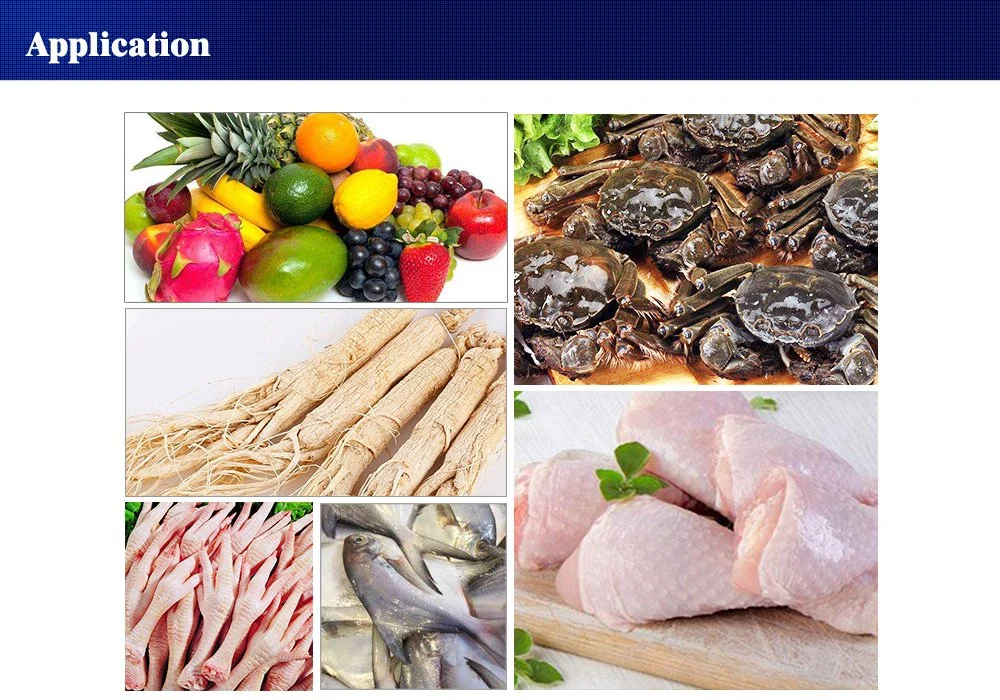 1.VISION
.
Visual inspection can identify product defects, such as errors in pictures, colors, and text.
2.
EASY.
Large LCD touch screen display, Chinese and English interface,
Language customized
.
3. PRECISON.
High-precision sensor with high detection accuracy and fast detection speed.
4.
REAL TIME
.
The graph shows the statistical distribution of the sorting results and grasps the sorting dynamics in real time.
5. MEMORY
.
100 kinds of product sorting parameters can be preset, and different products can be quickly switched.
6.
AUTO-LEARN
.
High-speed and high-precision digital filtering algorithm, data filtering parameters, automatic learning.
7.
INTELLIGENT.
Dynamic zero tracking, including zero tracking when the equipment is continuously running, can automatically correct the weight value.
8. RELIABILITY.
Variable frequency motor drive, effectively improve the stability of equipment operation.
9. DATA.
Preset data transmission interface, can set or export product sorting parameters via USB.
10.ACCURACY.
The photoelectric check weighing trigger method is adopted to effectively improve the accuracy of the equipment.
11. REMOVE.
Multiple removal methods are optional, which can remove overweight or underweight products.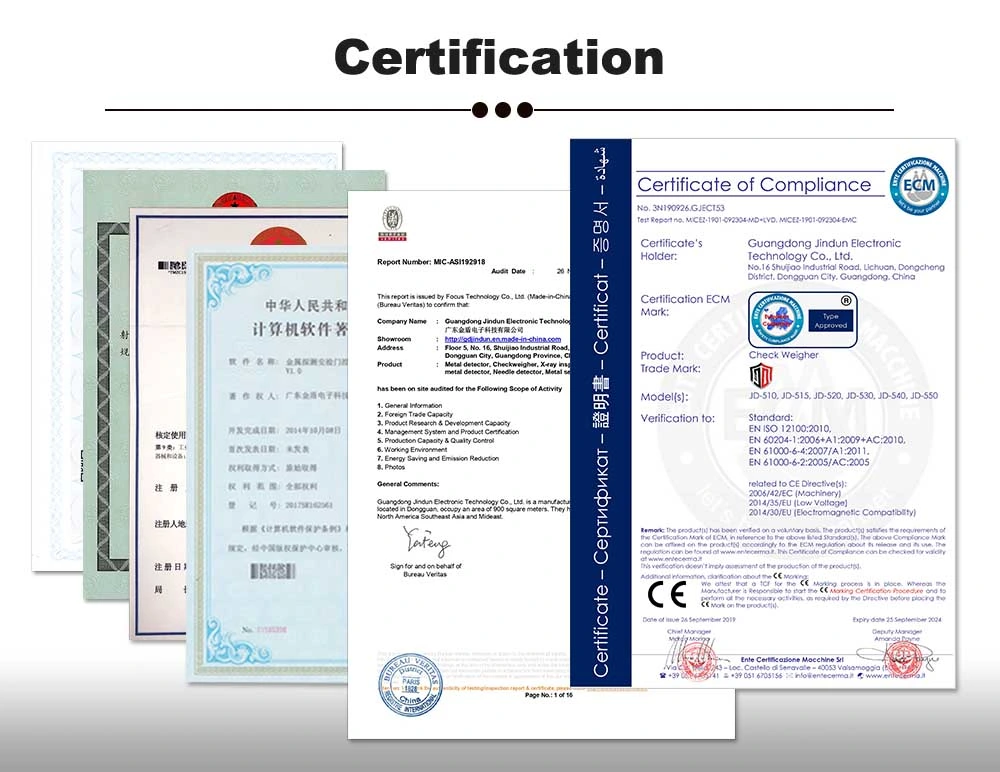 JINDUN manufactures quality control equipment that inspects and detect physical foreign objects & control weighing. We keep your products safe & standard, and protect your brands! JINDUN-DETECT AND INSPECTION TECHNOLOGY FOR QUALITY CONTROL

we are your reliable partner in quality control and security inspection!
Based on Dongguan, a major manufacturing hub in China, Jindun is a global manufacturer of quality control and security machine for the food, packaging, pharmaceutic, textile, rubber, and other industries, principally offer conveyor belt metal detectors, check Weigher, grader, combination system, X-ray inspection system, needle detector, metal separator, walk through metal detector, X-ray security inspection, and handheld metal detector.

-We can help you develop and win more market share!
-Giving your best solution in sourcing metal detectors and X-Ray inspection, check weigher.
-Giving your best support on products perfect balance performance and cost


-Strong R&D team and strict QC system ensure the best quality
-High precision and reliable performance
-Most competitive price by actively seeking the best options and manage supply chain
-Large stock and quick delivery than our competitor
-1-year warranty and best after-sales service supported by our professional technicians


All JINDUN products go through design, engineering, and manufacturing process led by highly skilled and experienced engineers to manufacture high-quality, precise, intelligent and affordable quality control systems and security inspection.

We have been providing our customers with customized machines to their quality control and security needs for more than 17 years.

CE-certified products, our reputation is based on consistent quality and advanced technology, the result of continuous and far-reaching research and development. Rigorous quality standards ensure that we meet customer specifications each time, every time.

We are proud of our products and service. We are committed to ensuring quality control and security inspection by providing the best value to all our customers worldwide.