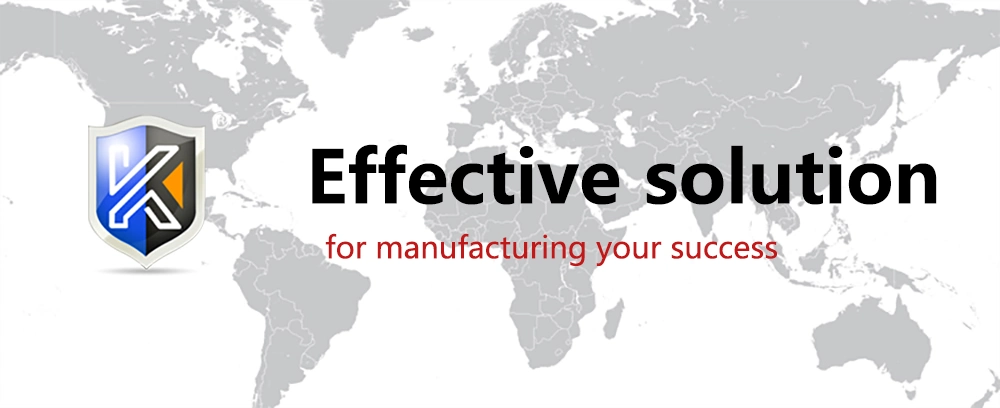 Kinghanlong Automatic Weighing Packing Machine features:
1,
Requirement for high precision measurement and fragile packaging bulk goods, such as: puffed food, crispy rice, fruit chips, sweets, pistachio, apple slices, dumpling, chocolate
,
balloon, rubber, Screw the Nut hardware item, medicines etc.
2
,
Highly sensitive weighing sensor, with the highest measurement accuracy up to + / - 0.5g.
3
,
Anti-acid-base 304 stainless steel plate, meeting the standards of food SC certification and drug GMC.
4
,
The standard procedure is to make sheet metal parts by hand. The mounting error is as small as 1mm
5
,
Automatic bayonet weighing hopper, storage hopper, main vibration and wire vibration without screw fixation.Simple disassembly and convenient cleaning
6
,
10 sets of customized storage data, which can store 10 sets of commonly used parameters. When it is necessary to switch parameters, it is convenient and fast to switch with one key
7
,
There are 50 kinds of basic parameters of products with different attributes and shapes in the database. Only the same or should be selected when weighing
Similar material pictures, and then set the weight to complete the measurement part.Easy to understand.
8
,
Real-time monitoring screen can instantly check the weight of the blanking combination, check the stability and error of the weight.
9
,
The equipment is mainly calculated by mathematical combination. Many qualified combinations are made from multiple weighing hopper, and then the most similar combination is selected from them.
10
,
As many as dozens of languages can be switched at will.
11
, You can customize the concavo-convex pattern plate, rotary weight, no material storage, non-stick material.One said multi-purpose, can achieve the same type of product diversified packaging.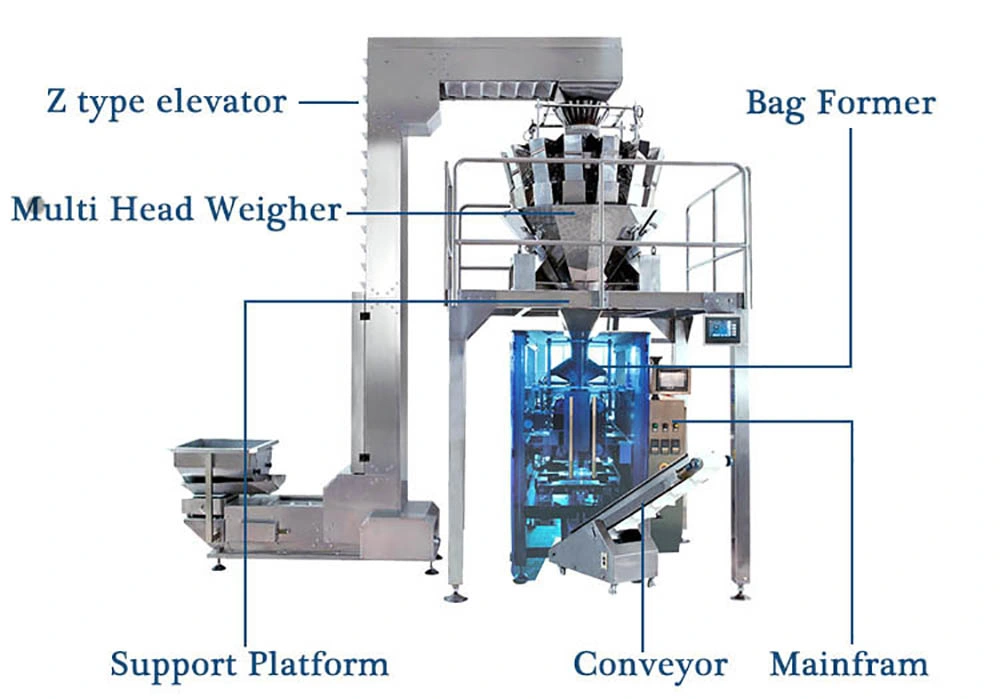 Technical Parameters
Back sealing pillow bag/4-side sealing bag

Packing weight

Nitrogen fiiling device Coding printer gas-filled device punch device etc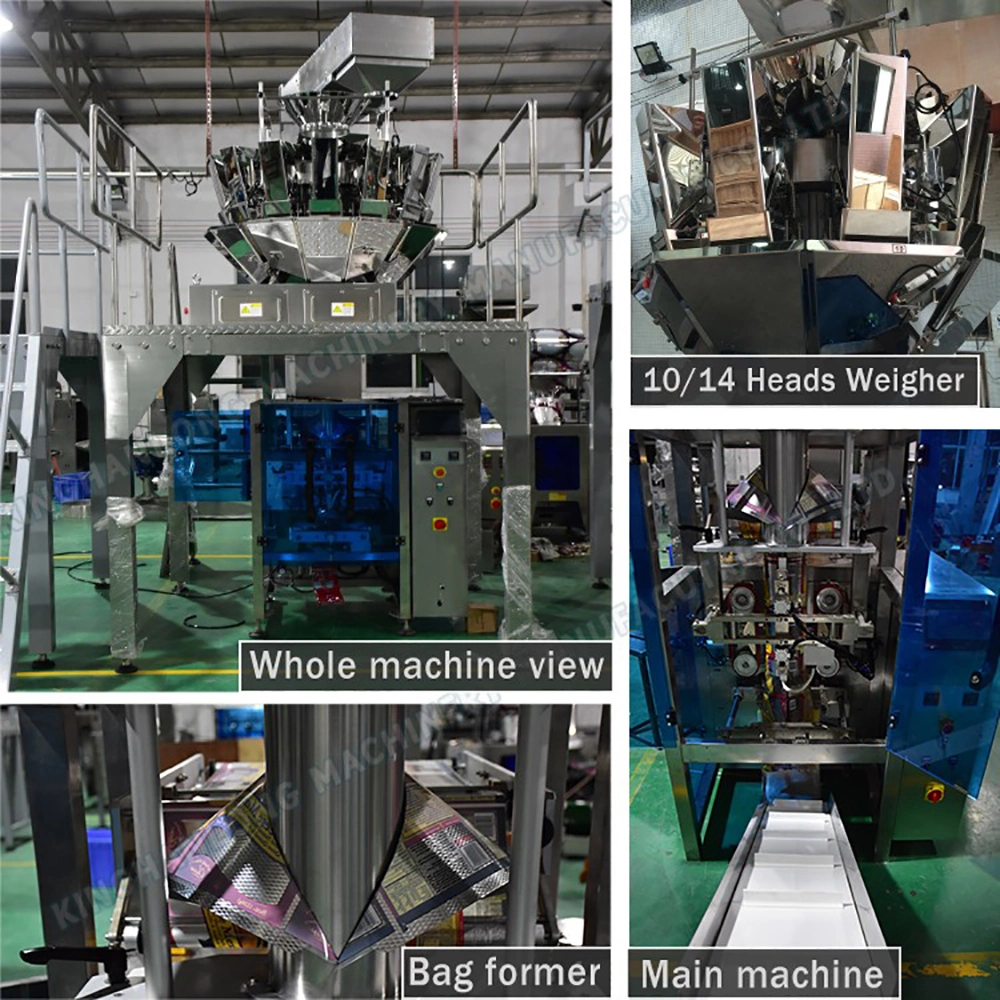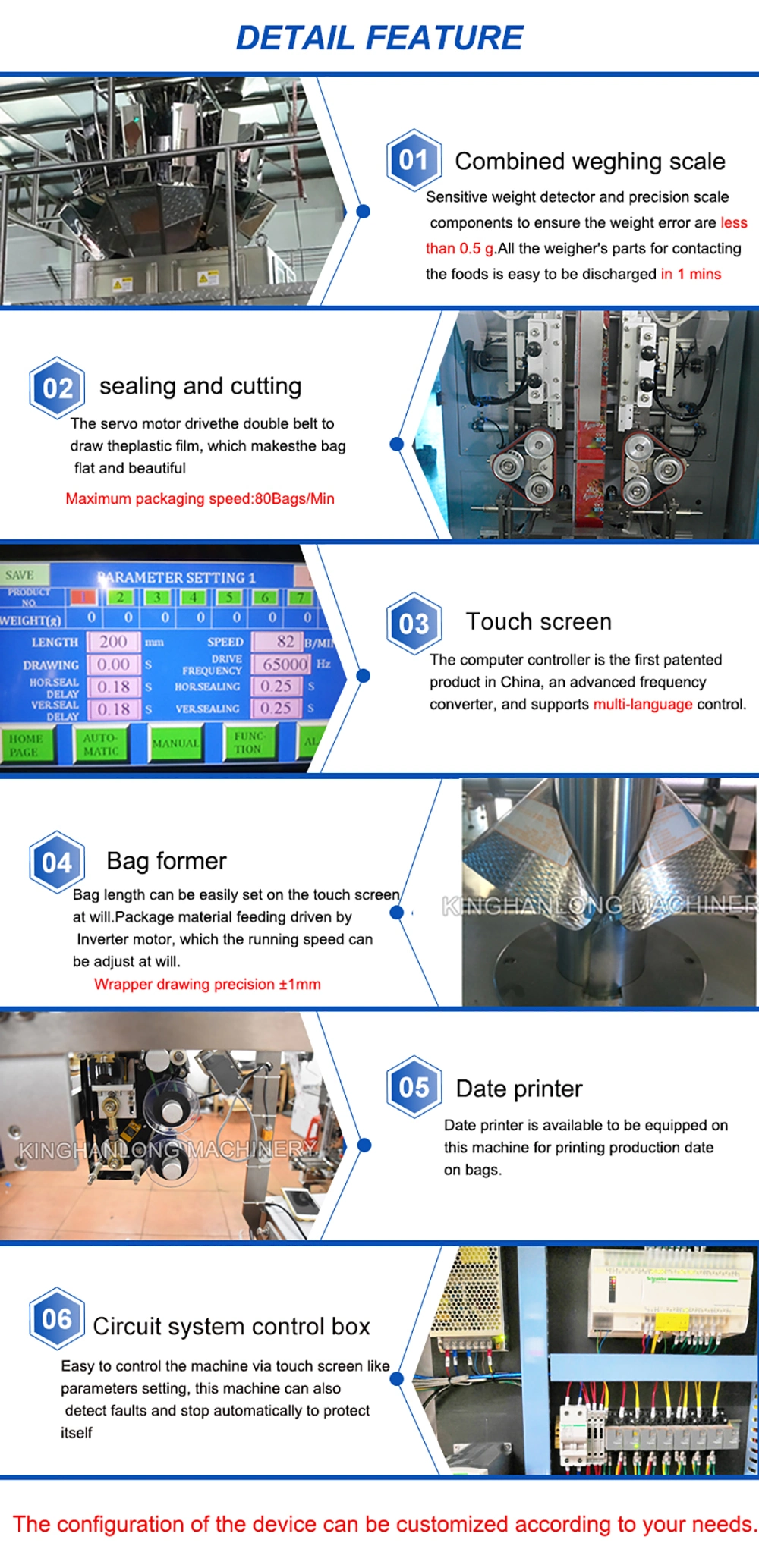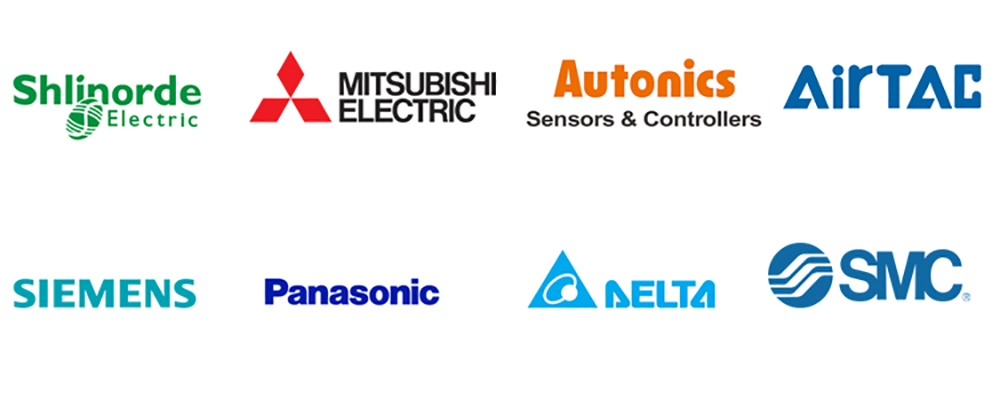 Food:Candy,Beans,Chips,Popcorn,Pasta,Corn,Rice cake,Jelly,Cookies,Cheese,Peanuts,Coffee Creamer,Almond,etc.
Daily necessities:Mothballs,Disposable Mask,Buttons,etc.
Hard&Ware:O ring,Screw,Dowel,etc.
Medical:Pill,Medicine,etc.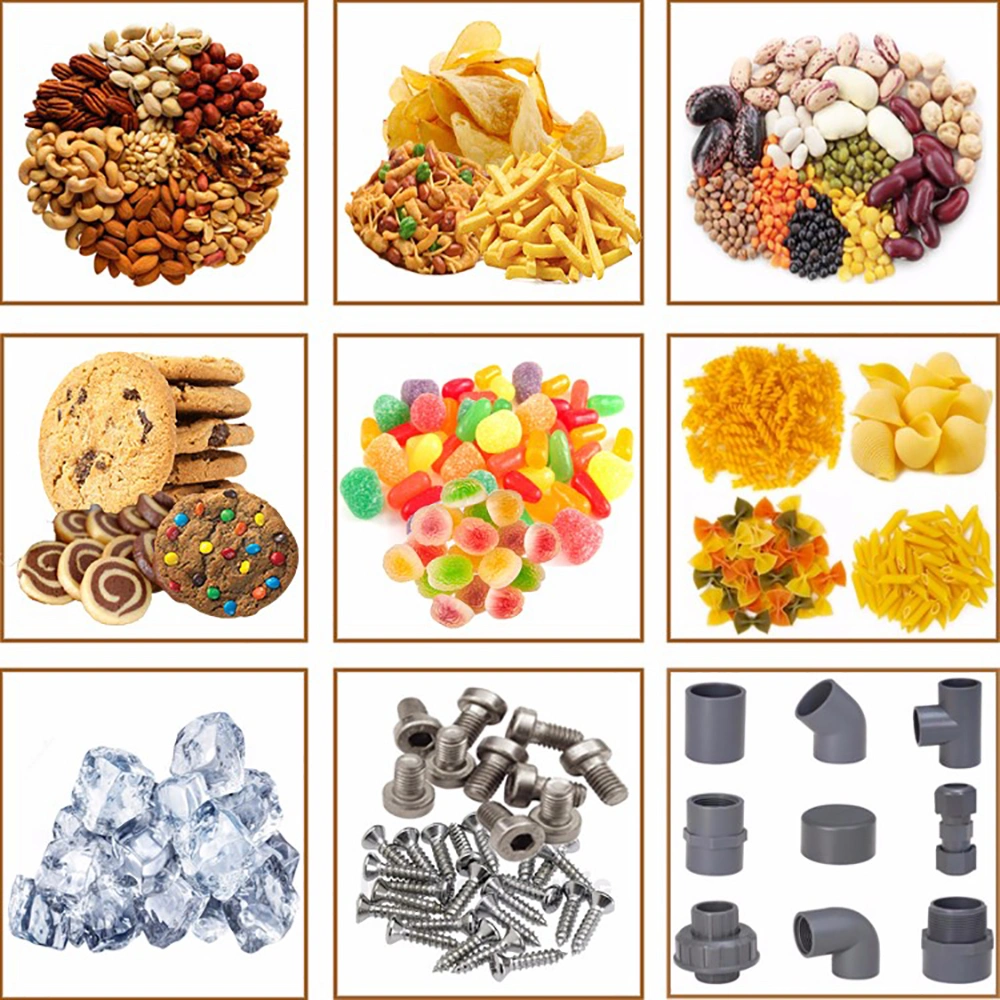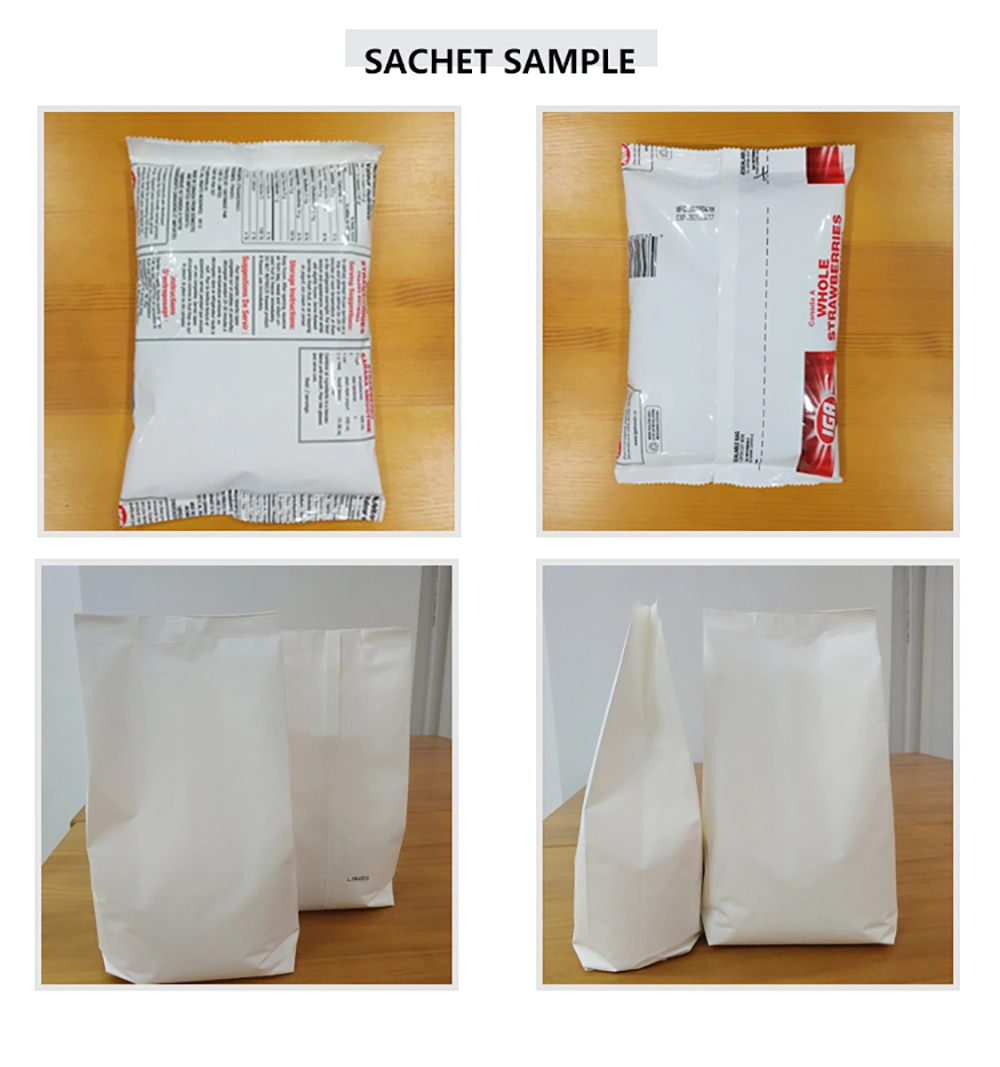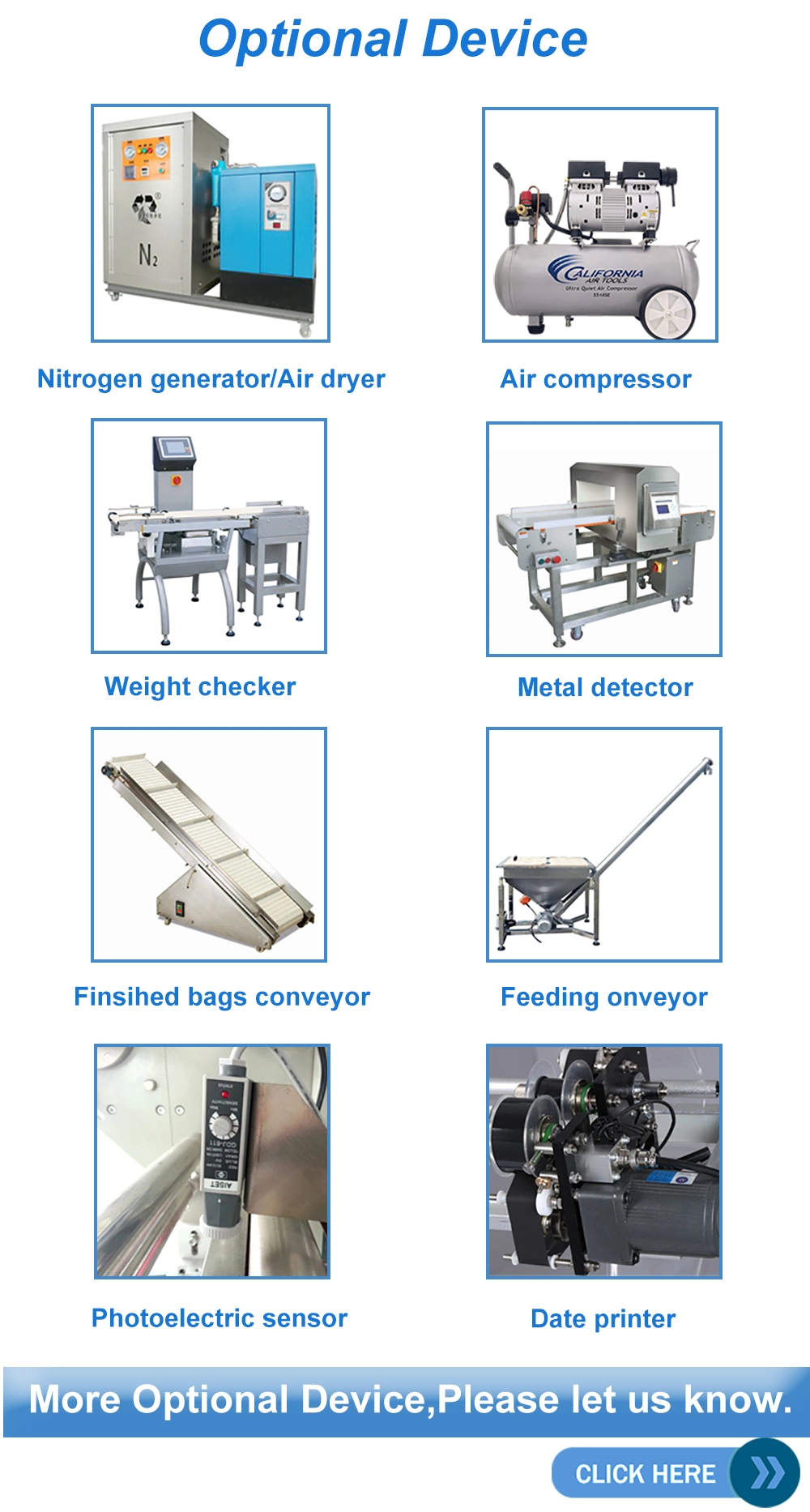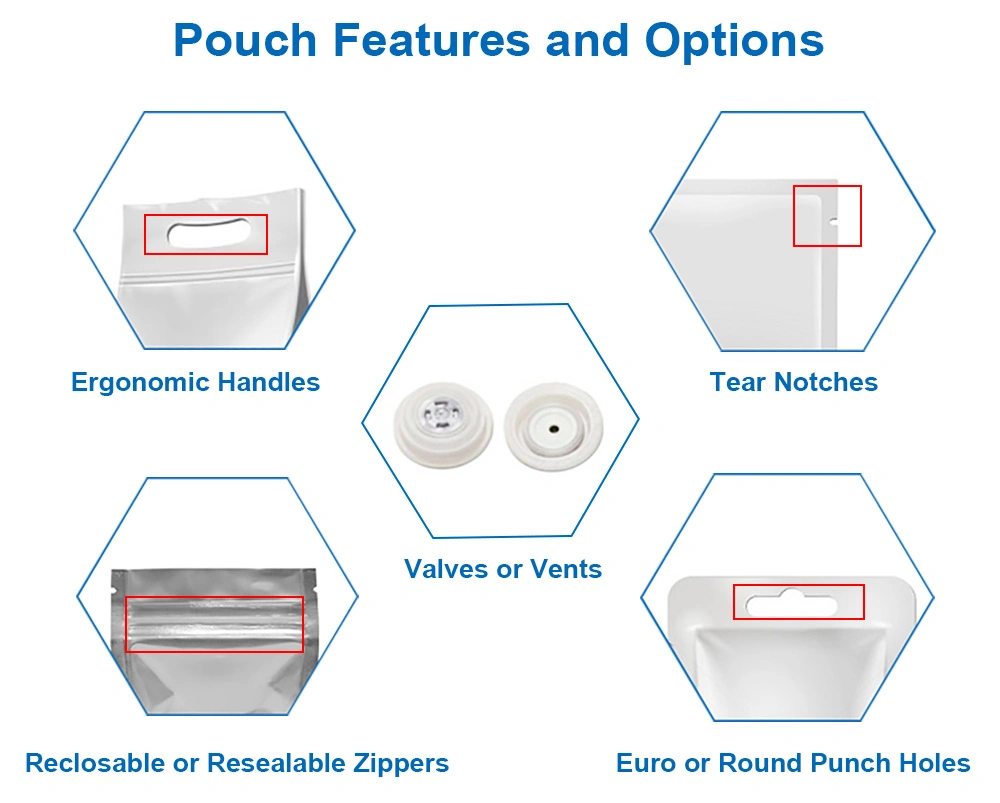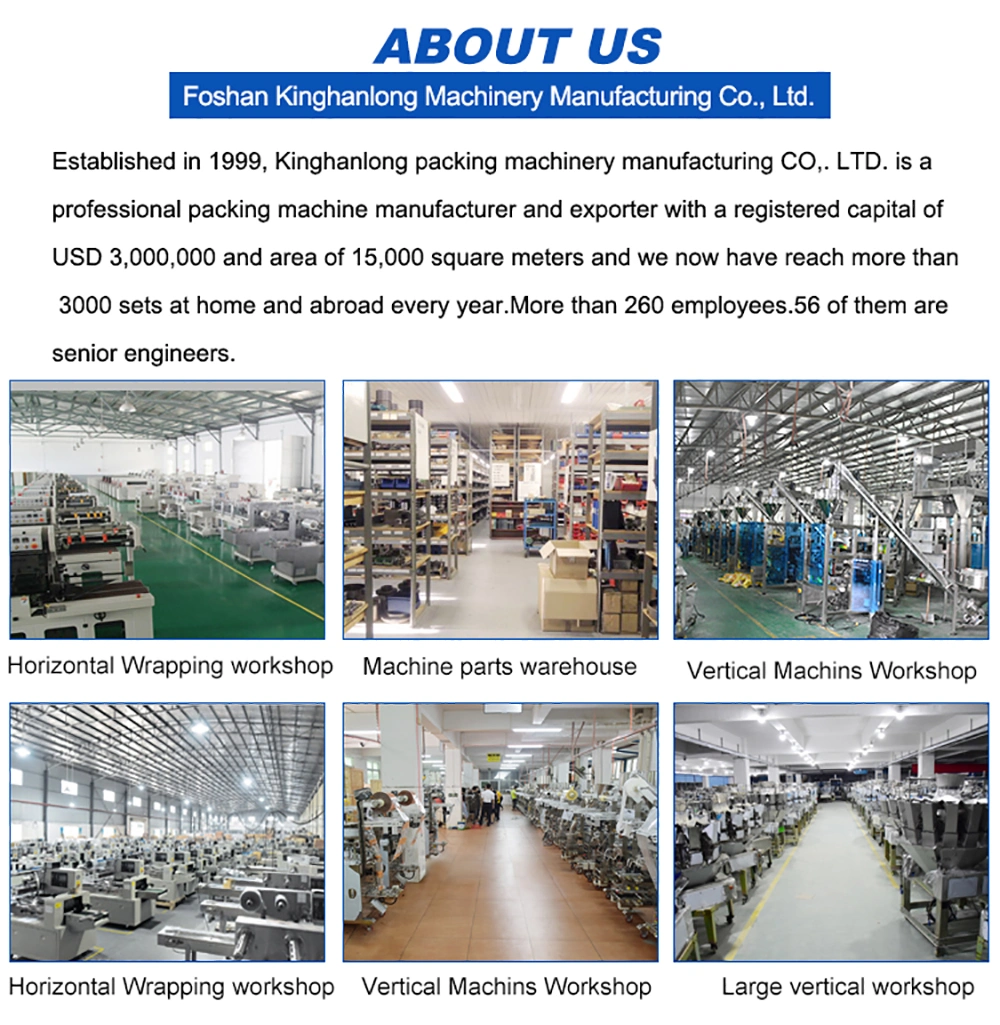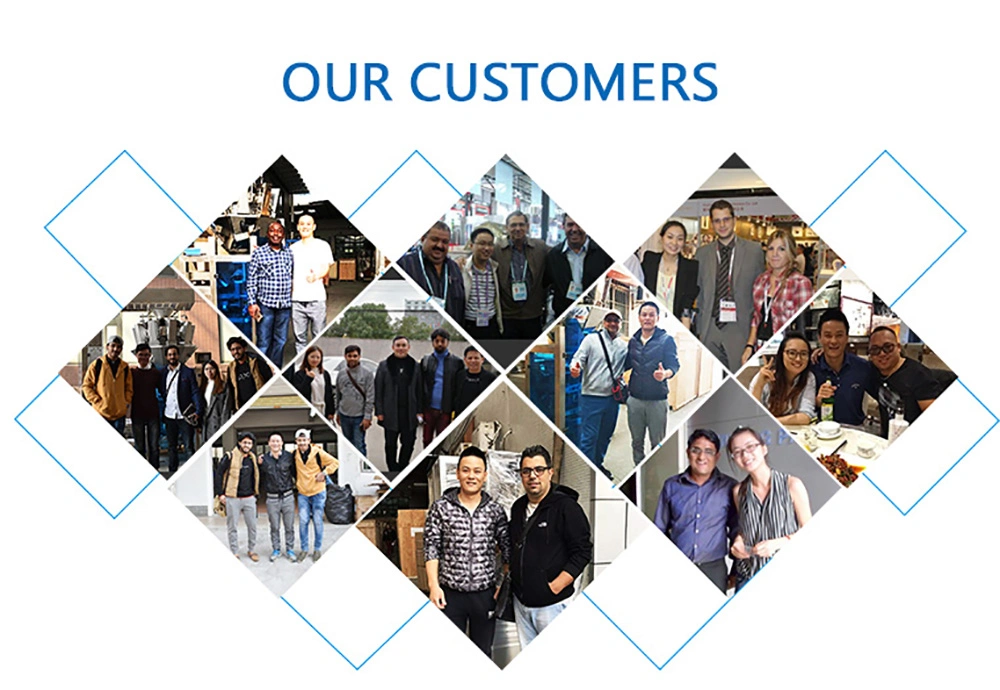 FAQ


Make sample bags
If it's necessary according to your requirements, we can make sample bags for your reference.
Free machine adjustment before shipment
Our technical team will adjust the machine based on customer's request and take video to send to our customer to show the running condition of the machine.
Free Training CD to ship with machine
Our technical team will provide a trainning CD to our customer in order to train how to use the machine.
Life Long after sale service
Our factory will provide life long service, in order to help our customer to solve any problem regarding to the machine, such as replacement part, technique questions, etc.
Overseas door to door service
Our engineer overseas door to door service is available.
Warranty and after-sales service
One year warranty, 24 hours online technical service and solution can be offered.

Remark
1.Our company accept the payment of L/C,D/A,D/P,T/T,Western Union,MoneyGram,Visa,Mastercard,
e-checking,PayPay,apple pay etc,confirm with our sales personnel finally please.
2.There may be charge when adding the additional configuration, please confirm with our sales personnel.
3.The packing machine final price need to confirm with our sales personnel.
4.Our company reserve all the right for the final explanation.