Product Description
River gold mining equipment/gold separator machine/gold sand separator machine

I. PRODUCTS FEATURE
Gold washing trommel plant is gravity separation equipment. It is a simple structure, convenient maintenance, low production cost, and small pollution to the environment is obvious. Gravity separation is still one of the most important processing methods at present.

>Woking capacity can be 50t/h to 400 t/h, gold wash plants is designed according to clients individual mining situation.

>Hopper with grizzly to block out the big size rocks.

>Belt conveying system available if required.

>Separating system could be equipped with clay scrubber, gold trommel or vibrating screen according to different mining situations.

>Gold recovery system could be equipped with fixed chute with gold carpet or shaking chute, Knelson type centrifugal concentrators,etc to ensure highest recovery rate.

>Power system could be equipped with Cummins generator set with suitable power

>Gold Refining system could be equipped with gold shaker table, amalgamator, etc.

>Stationary or mobile type up to your choice

II. BASIC PARAMETERS
It is just for reference,should be made according to your mine situation.
Model

KDTL-50

KDTJ-100

KDTJ-200

Performance

Dimension(L*W*H)(mm)

7000*2000*3000

8300*2400*4700

9800*3000*5175

Processing capacity (t/h)

50-100

100-150

200-300

Main Power

Power(kw)

24

50

75

Feeder hopper

Size (L*W*H)

2000*2200mm

3000*2200mm

3800*3000mm

Gold chutes with carpet

Size (W*L)

1000*2000mm

1000*6000mm

1000*6000mm

Quantity

2

2

3

Water system

Pump power(kw)

7.5

30

45

Optional equipment: Wheel, Grizzly, conveyor, shaking chute , centrifugal machine etc.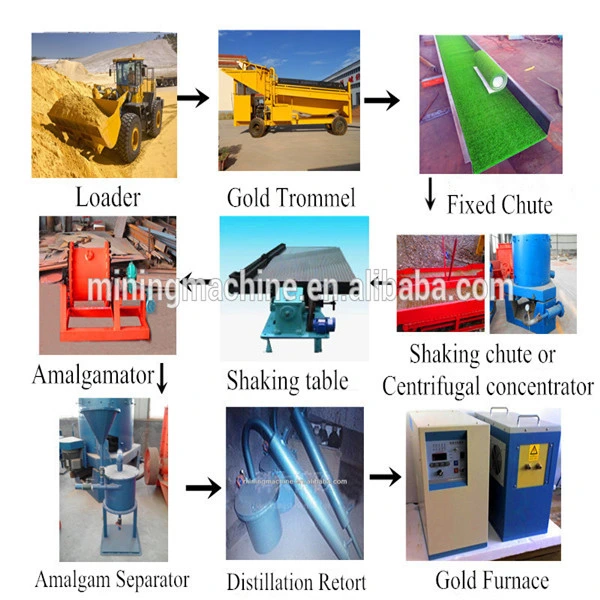 III. WORKING PRINCIPLE
Using excavator to feed raw material to the hopper ,then, raw material flow into double trommel, big stones and pebble can be separated and flow outside of the equipment, mineral aggregate with gold whose diameter is less than 6mm can enter into the beneficiation sluice through inner trommel screen,there is a fixed and high extraction ratio gold carpet sluice in one side of the beneficiation sluice to extract gold particle. The machine is equipped with big flow capacity and big head water pump, can supply high pressure water for hopper, trommel, the mineral aggregate with gold will flow through the gold felt in the effect of self weight and waterpower, lighter mud or sand will be washed away and big specific gravity gold is left on the gold carpet.
Our engneers will go to the customer's work site to provide on-the-spot investigation,testing and assessment analysis,confirming scheme of modification, installing and debugging and on-site experiments, to make sure that you can make the best use of our product, and bring you the highest profits.

III. OUR SERVICE
1.Rational and practical design according to customers' request proved.
2.Within warranty period,we provide free repair if quality problems emerge.
3.Engerneers are avaliable to service oversea to assemble and test the machine according to the contract.
4.Free training of the first batch of operater proved, any question or problem about the products can be answered via online support, phone calls or on-sit support 24 hours.
IV. CERTIFICATES
All the products in our company has passed ISO9001:2008,and the gold wash plant has obtained PATENT both in utility and design. We are the ONLY manufacturer has this patent in China.
V. FAQ
In order to provide you with efficient & suitable quotation and assistance for you, could you kindly tell me the following information:
1)Working capacity(t/h)
2)What is the clay content(%)?
3)Is there any big stone in the ore? What is the maximum size?
If you have any quuestion about our company or products, please feel free to contact with me, and i will try my best to make you satisfied.
Fergie Wu
Qingzhou Keda Mining Machine Co,.Ltd.
Tel/Fax:0086-536-2105419
Mob:0086-18353663571

Thanks for your browse!